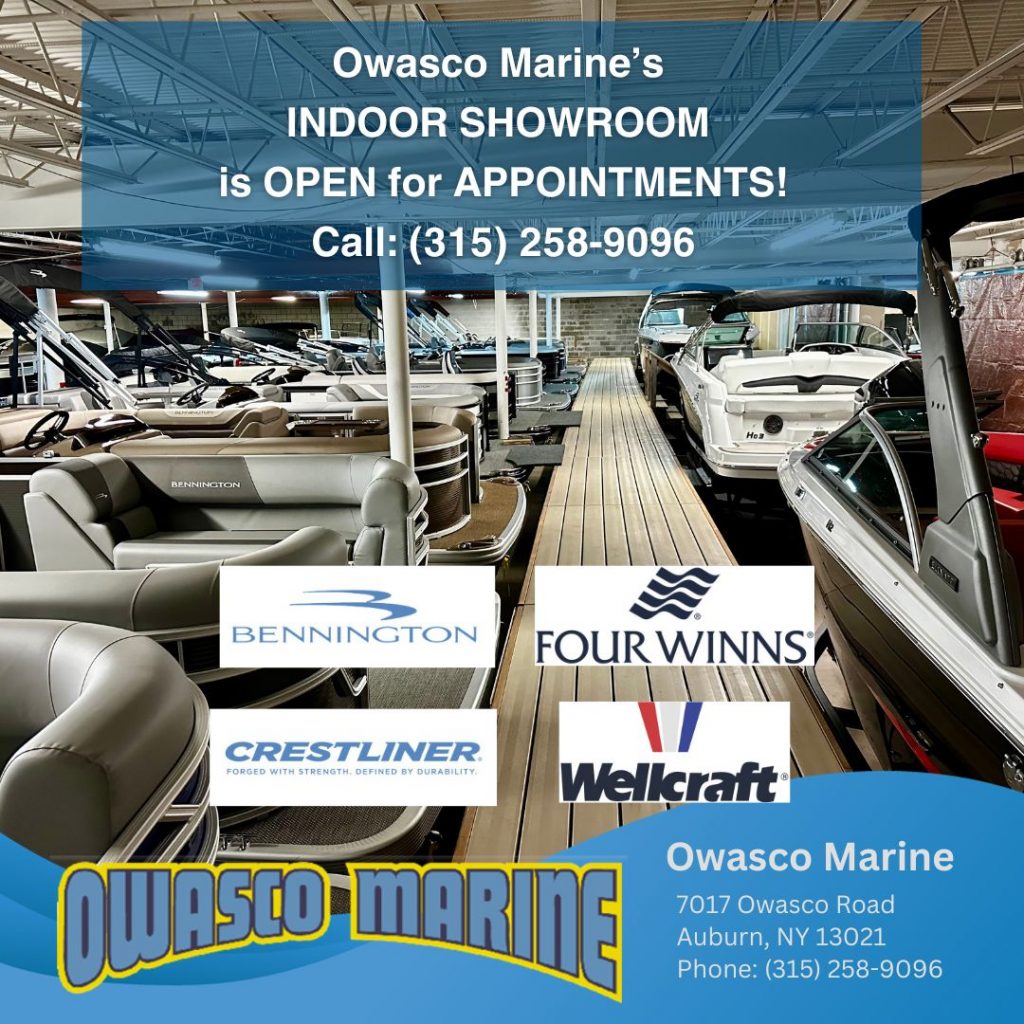 Owasco Marine
Owasco Marine is the largest marine operation in the Central New York and the Eastern Finger Lakes providing the highest quality sales of Bennington pontoons, Four Winns, Crestliner and Wellcraft boats. Additionally we offer high quality service, winterization, storage and rental operations! No matter what your boating needs, we can help.

Our goal is to provide to you, our loyal customers the highest quality products and services available anywhere in Central New York. Thank you for visiting our website and we look forward to assisting you with your on summer fun.

A 2023 FALL UPDATE


As I look out my office window at todays rainy 50 degree day, it's obvious that summer 2023 is behind us and winter is on the way. Our loyal friends and customers are flocking in, many saying what a sad day it is bringing their boat in for it's long winter nap. But for us here at the marina, it's a mixed bag of "wow, that's a lot of boats" and looking forward to the rest and relaxation we cherish in the upcoming Wintertime. Boat sales have slowed as they do this time every year, so Owasco Marine has once again been able to obtain a good supply of new in stock Bennington's, Four Winn's, Crestliner's and Wellcrafts ready for immediate sale and delivery now or in the Spring. Thankfully prices have softened from the "Crazy Covid Times" and we are offering some excellent fall discounts that simply wont be there in the Spring. If you are considering a New or "New to You" boat, NOW IS THE TIME. Our current new boat stock and yearly allocations from our manufacturer's are generous, plus we are brimming with lots and lots of gorgeous preowned units that we don't want to keep all winter.

Want a "legit" GREAT deal, BUY WHEN OTHERS AREN'T. Act soon and you'll find yourself enjoying the sunset on your evening cruise while watching your friends and neighbors mowing their lawn on the shoreline. Give us a call (315-258-9096) and we will do our best to help you find the right boat for you and your family to enjoy.