New Boats
At Owasco Marine, we carry only the finest, top of the line new boat franchises – Bennington, Crestliner, Four Winns and now our newest addition Wellcraft.
Bennington, what more do I have to say. Do your homework and you will find that when it comes to quality, design and performance EVERYONE agrees, it's Bennington pontoons and then all the rest. Bennington is the #1 selling pontoon brand in the country outselling the #2 and #3 brands combined. When you experience one, it won't take you long to understand why the choice is clearly … Bennington.
Crestliner has long been known throughout the aluminum fishing boat industry as the quality leader. The Crestliner motto – "Forged by Strength, Defined by Durability" is all we need to say. We proudly stock Crestliner's from 16′ to 22′ in length and in a variety of configurations and engine sizes. From "hard core" fishing models to "family friendly" layouts Crestliner has what you need for a great day on the water.
Four Winns slogan "Life Should be a Beautiful Ride" couldn't describe these boats better . Known as one it's the of the highest quality manufacturer's in the country, it's their quality, design and value that makes Four Winns the quality leader that they are. We couldn't be more proud to have them as our open bow & deck boat line. Come in and see one and let our pride show.
And now to our newest addition Wellcraft's center console's. "A Superior Craft Designed for Everyone", Wellcraft center consoles have become the rage not only in the "salt" but now freshwater, so when Wellcraft became available locally we jumped at the opportunity. Crafted for family comfort, equipped for serious fishing, the Wellcraft Fisherman series will handle anything you can throw at it.
An Unhappy Reality Updated

It goes without saying that 2020/2021 and the Pandemic has changed many aspects of our lives and the Marine Industry is no exception. Owasco Marine has now sold about 99% of our available 2021 new boat inventory, and the 2022's are already 20-25% spoken for.
We expect the remainder of 2021 and 2022 to continue with boat sales outpacing boat manufacturers build capacity. We have now received our 2022 allocations from all of our builders and have Bennington's, Four Winns, Wellcraft's and Crestliner's available for order for 2022. If you want a new boat for next year and you don't take this opportunity to order one early you will likely find yourself standing on the shore watching your friends and neighbors enjoying their new boat.
Give us a call and we will do our best to help you find the right boat for you and your family to enjoy next summer.
Click to View Boats by Manufacturer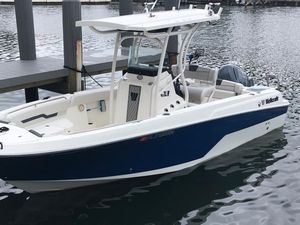 Type

Center Console

Length

20

Color

White/Denim Blue

MSRP

$67,571.00

Sale Price

$51,360.00